this is my 'hood!! this makes me pretty stoked! i love my neighborhood.
we are on the front cover of the best this old house neighborhoods in the northeast and the best row house and the best city living . . . there is a long list underneath. and this photo got us on the cover of all of them . . .
seriously, buying this house was NO easy task, but ... it really is home. i have wonderful neighbors, i love my garden, etc. seeing this, just makes me feel like the blood, sweat and tears of the rehabilitation might pay off in other ways some day too . . .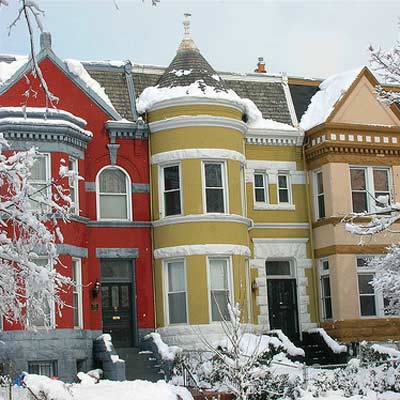 Eckington, District of Columbia
Forget Bethesda and Arlington. When technology director Steve Rynecki moved from San Diego, California, to Washington, D.C., in 2002, he wanted to live inside the city limits. He also wanted an older place with period details—a Federal rowhouse on Capitol Hill or a red-brick Queen Anne in Columbia Heights. Unfortunately, digs in those neighborhoods were priced over the half-million-dollar mark. So Steve looked to the district's northeast section and found what he was looking for: an 1893 rowhouse for around $250,000. "The price was right, the architecture was amazing, and the metro a 10-minute walk," he says. Originally the province of powerful Victorian-era politicians and business owners, Eckington later became a stronghold of D.C.'s African-American middle class. These days, it's a magnet for anyone looking to eschew the Beltway 'burbs and find fixer-uppers and freshly renovated homes in a cool, urban spot just a 10-minute drive from Capitol Hill.

The Houses
Most are brick Federal, Queen Anne, or Colonial Revival rowhouses. We found a renovated six-bedroom 1913 Colonial Revival rowhouse for $249,000. Of the renovations-needed ilk: a four-bedroom brick Victorian-era rowhouse, with a turret, for $345,000.

Why Buy Here?
Government offices have opened around the five-year-old Florida Ave/New York Ave metro stop that's just a stone's throw from Eckington. Newly opened restaurants and clubs near the revitalized Atlas District give residents plenty of entertainment options, too. "It's being discovered as an affordable place to buy a house in D.C.," adds local Realtor Michelle Buckman, "and there's a lot of renovating going on."

Among the best for: The Northeast, City Living, First-Time Buyers, Victorians, Rowhouses, Easy Commute, Walkability
Best Old House Neighborhoods 2011: The Northeast
By: , This Old House online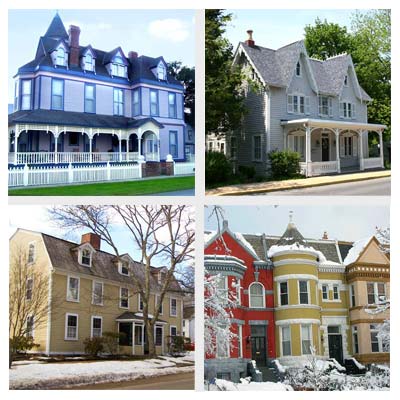 Best Old House Neighborhoods 2011: The Northeast
For the fourth year in a row, we've tracked down North America's most timeless neighborhoods—places where lovingly crafted old houses have extraordinary pasts and unarguably promising futures. With help from our friends at Portland, Oregon-based PreservationDirectory.com—who distributed our nomination forms to more than 14,000 historical societies, neighborhood groups, and preservation nonprofits—we've assembled our biggest-ever list of off-the-beaten-path places that are worth eyeing for a great old home.

From quaint New England villages to bustling urban enclaves, here are a dozen places where you can find a perfect old house of your own along the northern Atlantic coast.